Curriculum Vitae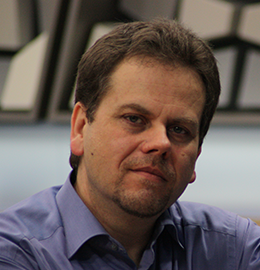 Jan Simon (b. 1966) began playing the piano at the age of seven under the guidance of his father, the composer and conductor L. Simon. Jan Simon studied at the Prague Conservatory with the Russian teacher V. Kameníková, before continuing his musical education at the Prague Academy of Performing Arts under I. Moravec. That was followed by one year of study with H. Francesch in Zürich and two years at the Music Academy of Lübeck with J. Tocco; after completing his studies there in 1993, he was invited to teach at that institution.
As a student Simon was successful in a number of music competitions. He won the top prizes at the national Chopin competition and a competition sponsored by the Czech Ministry of Culture. Those proved a good starting point for his success in international competitions, as he picked up more prizes at the Chopin in Mallorca Competition 1985, the Prague Spring Festival Competition in 1988, the W. Kappel Competition USA in 1990, and the Queen Elisabeth Competition in Brussels in 1991.
Simon has regularly played with such noted orchestras as the BBC Symphony Orchestra London, the Israel Philharmonic Orchestra, the Baltimore Symphony Orchestra, the Czech Philharmonic, the Orchestra der Beethovenhalle Bonn, the Malmö Symphony Orchestra, the Prague Radio Symphony Orchestra, the Moscow Soloists, the Slovak Philharmonic, the Prague Philharmonia, the Prague Symphony Orchestra, the Romanian Radio Chamber Orchetra  and many others. He has worked with prominent conductors, including J. Bělohlávek, J. Hrůša, T. Netopil, O. Lenárd, L. Pešek, V. Válek, V. Sinaisky, M. Soustrot, T. Strugala, S. Baudo, D. Robertson, M. Turnovský and G. Delogu. His concert tours have taken him to most European countries, as well as to the USA, Canada, Mexico, Australia, Egypt, Japan, China and Taiwan.  During the last concert seasons he has appeared on premium stages of Athens, Thessaloniki, , Frankfurt am Main, Munich, Cologne,  Zaragoza, Pamplona, Jerusalem, Udine, Beograd, , Zagreb, Nancy, Seoul, Bilbao, Bucharest and others. In April 2010  he has performed Beethoven's Piano concerto No. 3 in Auditorium Stern/Perelman  of the  Carnegie Hall in  New York.
He has given recitals with W. E. Schmidt, J. Suk, V. Hudeček, J. Bárta and other top class artists. He records for Supraphon Records, BMG Ariola, Radioservis and the Clarton label. In January 1996 his recording of the Schulhoff piano concertos (with the Prague Radio Symphony Orchestra and V. Válek) won the Cannes Classical Award 95 MIDEM in France. In 1994 Simon became Czech Radio's soloist in residence.
Alongside his artistic activities, Jan Simon has been working at Czech Radio from 2001 to 2015 as a director of the Prague Radio Symphony Orchestra.